Suppose you connected a hardware (such as a transceiver interface) to your PC, one or more serial ports appeared in the Device Manager, but your software cannot open one of this serial ports.
Things like this just drive me crazy. I always want to know why this happens. It looks like some other program opens a serial port secretly, and it is quite difficult to determine which program to shut down to feel happy. Correction: it was quite difficult. Fortunately, we now have a utility to help us: the Serial Port Checker, available at this link.
Example: ports COM10, COM11 and COM12 are installed in the system, and the program report status for all these ports: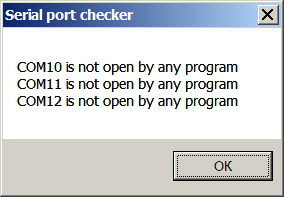 Now some of these ports are open, restart this program to see the effect: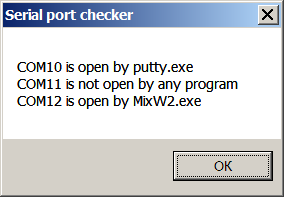 The program works with 32- and 64-bit versions of Windows, and is able to list both hardware and virtual serial ports (such as Eltima or FTDI ports).
73! de Denis UR8US (ex UU9JDR)
17-Feb-2014